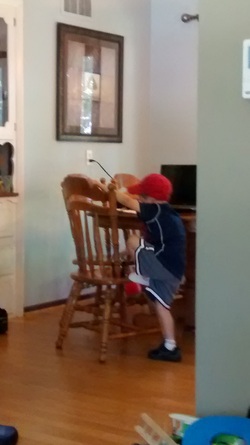 My three-year-old son is in a fun stage where he wants to do everything, "Just like Daddy!" I took this photo last week when they went running together. Noah carefully selected "running clothes" that resembled what my husband was wearing, and proceeded to take his shoes to Daddy's chair so that he could put them on the same way his daddy does (even though he could barely reach). He tries to ride bike, floss his teeth, read books, eat, use tools, and tell stories "just like Daddy!"
Fortunately, I'm not missing out on the opportunity to be a positive influence on our son. Noah started preschool last week. As I was praising him for sharing with the other students, listening quietly during story time, following the rules, and respecting his teacher, I asked, "How did you get to be so smart?" He responded, "I got it from you, Mom!"
My husband and I delight in each of the little evidences that Noah is watching us. The reality is that all of us are often role models for people around us. Our own children, or students, or neighbors, or even people we pass casually on the streets, are watching us. Do we model acceptance, respect, kindness, empathy, trust, compassion, encouragement, joy, and love?
I have been increasingly convinced, especially in the last few weeks, of the need to do things just like my Daddy—my Heavenly Father. I hope and pray that the interactions you have with me, whether through reading this weekly article, following our
Facebook page
, perusing our
web site
, reading
one of the books we've authored
, accessing our
coaching and consulting services
,
emailing me privately
, or simply passing me on the street, would be God-inspired and Spirit-filled. My gifts come from my Father, and I desire to use them for His glory, and to bless the people He brings into my life each and every day.
I do so very imperfectly. I often interact with others in ways that cause pain or confusion. I regret the times that I may have gotten in the way of others seeing Christ because of my busyness, my ego, or my devotion to my own plan. Know that I don't expect perfection from you, nor does our Heavenly Father. We are all imperfect vessels, but when filled with His glory, we can accomplish amazing things for Him!
If you don't have that assurance, that purpose, that joy, my deepest desire is that you would find that yet today. Why wait another day to experience the love of the Father, and the confidence that you, too, can be "just like your Daddy?" I welcome the opportunity to talk with you and to pray with you. Otherwise I hope you'll find someone in your community who loves the Lord and who desires to share that love with you.
Imagine the difference we can make in our homes, schools, workplaces, communities…and ultimately around the world…when each of us is trying to be "Just like Daddy!"