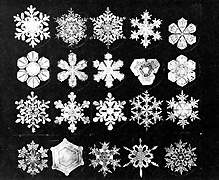 As I write this, West Michigan is blanketed with a thick coating of white snow. Throughout the past week (and for the last few months), we've often witnessed the beauty of fat, fluffy flakes drifting through the air, sometimes wandering lazily to the ground not unlike a decorative snow globe, and other times ferociously driven with the intensity of a strong wind.
I marvel at the knowledge that every single snowflake on the ground or in the air, including those piled in 12-foot-high snow drifts in parking lots all around the world, is different from every other snowflake that was ever created or will ever be created. Does that fill you with awe, too? (If you live in an area where you have never been blessed with an opportunity to shovel snow, be aware that the same reality is true of every grain of sand). That realization drove a man,
Wilson Bentley
, over a century ago, to devote his life to capturing photographs of the intricate crystals that comprise each snowflake. I admire his persistence, passion, and desire to share with the world the insights he was capturing on film. (Be sure to check out his
exquisite photographs
, and keep reading for an opportunity to WIN
the children's book based on "Snowflake Bentley's" life
).
Each photograph we capture of ourselves, our loved ones, and other people around us is a reminder that every person on this planet—currently, in the past, and in the future—is also totally unique from everyone else. Of course, you already knew that. But what has often struck me is that every single social interaction we will ever have will be different from all the others we have had. It's as though every time we interact with another person, whether only briefly, or for a longer period of time, we are creating another unique "social snowflake."
For some of you, that may spark curiosity and awe for studying and/or enjoying the ins and outs of social interactions. Yet imagine the confusion and frustration the complexity of "social" causes for individuals with difficulties in the area of "social intelligence," including those with autism spectrum disorders. How do you prepare for social success when every single interaction you will ever have—with loved ones or with strangers—will be different from every other one? "Social rules," whether written or unwritten, spoken or implied, cannot adequately prepare anyone for navigating opportunities (casual or formal, planned or unplanned), to interact with another person, whether verbally or nonverbally.
Although they clearly have challenges when faced with "social snowflakes," many people with autism spectrum disorders share something in common with Snowflake Bentley: their passion and devotion to a single pursuit. Our world has benefited greatly from their insights into areas related to science, finances, transportation, electronics, literature, entertainment…and even "social." We have much to benefit from their desire to learn and to share those things with us!
I'm wishing you an enjoyable week of discoveries and insights through "social snowflakes!"