Quick guide to resources:
A significant part of "growing personally and interpersonally" is accessing valuable information from a variety of resources. Our goal is to provide you with resources that will help you grow in your personal life, as well as your parenting, teaching, employment, and other relationships. Here is a quick guide to the resources you will find on our web site: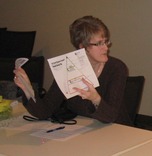 Our President, Laurel Falvo, is passionate about combining her love for teaching, along with her extensive knowledge and experience, to produce resources which help people grow personally and interpersonally.
Each of the following can be purchased by clicking on the corresponding PayPal button.
You can pay quickly and securely with a credit card, even if you do not have a PayPal account.
When we receive confirmation of your order, we will email you the pdf document that you have purchased. Usually we respond within 24 hours or less.
Scroll to the bottom of this page to see Laurel Falvo's books, which are available from Amazon.
Click here
to find recommended resources for parents and teachers by other authors.
---
PDF documents for purchase:

THE SOCIAL RESPONSE PYRAMID KIT:
This pdf document contains all the pieces necessary to have your own Pyramid discussions at home or in the classroom! It also contains discussion templates, colored social contexts, and instruction sheets.
Find out more about the Social Response Pyramid by clicking here.
COST: $8.00 (Use the button below to purchase this pdf file, which will be emailed to you after payment is received.)
---
---
Electronic Contracts
This pdf document contains important information about the use of electronics such as television, computer, video games, and phones. It also contains sample electronic contracts, and contracts that you can personalize for use at home!
COST: $6.00 (Use the button below to purchase this pdf file, which will be emailed to you after payment is received.)
---
My Growth Chart
Learn more from this pdf document about the four essential components of growing personally and interpersonally. Then use the included spreadsheet to encourage your children to plan their days to include each of the components. This basic plan will simplify your days, and teach your children valuable problem-solving and time management skills, along with basic budgeting!
COST: $5.00 (Use the button below to purchase this pdf file, which will be emailed to you after payment is received.)
---
Other resources by Laurel Falvo, which can be purchased from Amazon:

The newly revised and expanded
ASD to Z: Basic Information, Support, and Hope for People Living with Autism Spectrum Disorders.
All too often, news and information about autism spectrum disorders is negative and/or overwhelming. This valuable resource contains 26 points (one for each letter of the alphabet) of insights, practical strategies, and hope for people living with autism spectrum disorders (ASD), whether they have been diagnosed themselves, or are living, studying, or working with people with ASD. Great for parents, grandparents, teachers, day care providers, therapists, siblings, friends, and individuals with autism, whether they are new to the diagnosis, or have been traveling this journey a long time.
---

Hand-in-Hand: A Story About Asperger Syndrome...and a Very Significant Friendship
Join Rory Hollander and his cousin Alyssa as they navigate one week of their final year of high school, appreciating their unique friendship even while acknowledging the ways it will change in the near future. Asperger Syndrome, mutual understanding, helpful strategies, and respect are just part of this busy time in their lives, along with both positive and negative relationships, college plans, job prospects, and creative writing assignments. Regardless of your age or related experience, as you hear their story, and use the enclosed discussion guide, you're likely to increase your understanding and appreciation for people with Asperger Syndrome and other forms of autism, and add to your toolbox of strategies to help yourself and others experience social success. NOTE: The book can be purchased as a hard-copy or Kindle edition (or can be borrowed for Kindle).
---
FREE articles by Laurel Falvo:
The following articles by
Laurel Falvo
(President of SOCIAL INCITES, LLC), provide additional information and strategies for parents and educators:
(More articles coming soon!)
You can also access a variety of FREE articles by Laurel Falvo on Laurel's
Social Incites(TM) blog
on this site.