We are passionate about connecting employers with skilled employees!
As
employment consultants
, we provide consulting services to employers, to help them identify and utilize employee strengths, and develop strategies for overcoming or compensating for challenges. We help with problem-solving and conflict management. And we can assist employers and employees who would like to understand various disabilities so that everyone can continue to work toward and achieve goals for success!
As
job developers
, we also work to match skilled employees with the businesses in our community that could benefit from their passion, loyalty, energy, time, ideas, and abilities.
If you are an employer who would like more information about our employment consulting or job development services, please
contact us
!
---
We are passionate about helping people find and maintain meaningful employment!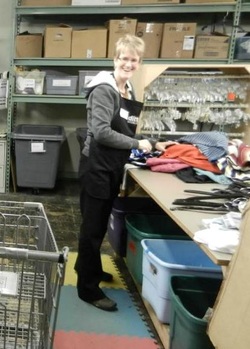 Sometimes the people we work with need help developing strategies to "market themselves" to prospective employers. Sometimes they benefit from job coaching, which helps them develop strategies for being more accurate, efficient, and productive at their job-related tasks. And often they benefit from social coaching, which helps them identify and respond effectively to the "social nuances" of the workplace with employers, co-workers, customers, etc.
As
coaches
, we lead by example. In our personal lives, we volunteer for organizations which benefit from the gifts of our money, time, passion, ideas, and abilities. (The photo on the left is of
Laurel Falvo
, volunteering with her family at
Ditto Upscale Resale
,)
As often as possible, we provide real-world experiences for our students, to help them develop on-the-job understanding and work habits for successful employment. We teach them to identify and meet employer expectations!
FOLLOW OUR
FACEBOOK PAGE
FOR INFORMATION ABOUT CLASSES AND OTHER RESOURCES.
---
Personalized. Proactive. Progress!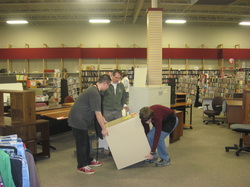 We love to be a part of the personal and interpersonal growth of our students and prospective employers (or current employees and their employers)!
Our services are "individual-driven," not "curriculum-driven." We recognize that each person has unique strengths and challenges, and so we tailor our coaching services, whether individual or group, to the specific needs of each employer or employee.
Although many of our students have
autism or Asperger Syndrome
, no diagnosis is required to access our services. Coaching can be beneficial to anyone, as we develop a partnership to help you identify and achieve your goals.
Our
JOB COACHING
can help you develop strategies to meet employer expectations. We can provide helpful hints, role-play opportunities, worksheets, and more as you become more accurate, efficient, and effective! We may even be able to help you identify a "good fit" with a community employer, and support you as you search for, find, and maintain successful employment!
Many of our students are able to access our services through
MRS (Michigan Rehabilitation Services)
. If you qualify for their services, once you have an open case with MRS, you can ask your counselor whether our services (social coaching, family coaching, job coaching, Growth Groups, etc.) could be part of your Employment Plan.
---
More Information:
If you're looking for more information about Asperger Syndrome or related disorders and employment, we recommend the following resourcess:
More resources, including books, DVDs, and fidgets, can be found on the following pages: