Autism is a "Spectrum Disorder..."

There are certain characteristics which lead to a diagnosis of Autism or Asperger Syndrome. These include deviations, delays, or disabilities in these areas:

- Social Relatedness

- Language and Communication

- Restricted interests/routines/imagination/behaviors

-

Possibly sensory integration

difficulties

---

Each person is a unique individual...
so much more than a diagnosis!

Some individuals with ASD may also have difficulties with:
- Anxiety / Depression
- Motor skills
- Co-morbid (co-occurring) diagnoses
- Faceblindness?
- Gender discrimination?

SEE BELOW FOR BOOKS AND OTHER RESOURCES FOR LEARNING MORE...

---
FROM LAUREL FALVO, CFLE and President of SOCIAL INCITES, LLC:
My first exposure to autism was a research paper I wrote while in 8th grade. At the time, our understanding of autism was limited to the most severe cases. I remember reading about people with a low IQ, limited ability to communicate verbally, and seemingly no interest in interacting with other people. I was fascinated, and determined that I would someday do what I could to help.
After college, I taught first grade, but found that I still had a heart for children who were struggling to succeed in the classroom. I began taking a variety of classes, covering topics such as remedial reading, early childhood education, and special education.
For over 20 years, I have been working with individuals with autism and Asperger Syndrome, and their families (parents, grandparents, and siblings), teachers, therapists, child-care providers, and employers. I continue to be fascinated by the functioning of the "autistic brain," and inspired by the countless people who, in spite of the difficulties they face, continue to offer so much to our world today.
I use the "caricatures" above to illustrate that the diagnostic criteria are an "oversimplification" and "over-generalization" of a person with this diagnosis. However, the diagnosis can be a great starting point to help the individual and his or her family, teachers, friends, colleagues, and employers better understand how they perceive and interact with the world, and which strategies may be helpful to enhance success.
Current statistics indicate that one in 68 children are being diagnosed with autism (according to the Centers for Disease Control, March 2014). This means that every one of us is likely interacting at one time or another with a person with autism. They are an important part of our community, and it's important that every one of us is equipped with tools for interacting successfully with people with these language/communication and social differences.
I am available to give presentations about autism, as well as other topics.
More detailed information about autism can be found in the following resources which I have written and published:
Laurel Falvo's Books:

Hand-in-Hand: A Story About Asperger Syndrome...and a Very Significant Friendship

Join Rory Hollander and his cousin Alyssa as they navigate one week of their final year of high school, appreciating their unique friendship even while acknowledging the ways it will change in the near future. Asperger Syndrome, mutual understanding, helpful strategies, and respect are just part of this busy time in their lives, along with both positive and negative relationships, college plans, job prospects, and creative writing assignments. Regardless of your age or related experience, as you hear their story, and use the enclosed discussion guide, you're likely to increase your understanding and appreciation for people with Asperger Syndrome and other forms of autism, and add to your toolbox of strategies to help yourself and others experience social success.

ALSO AVAILABLE: The newly revised and expanded

ASD to Z: Basic Information, Support, and Hope for People Living with Autism Spectrum Disorders

This valuable resource contains 26 points (one

for each letter of the alphabet) of information, support, and hope for people

living with ASD. Great for parents, grandparents, teachers, and

more!

All too often, news and information about autism spectrum

disorders is negative and/or overwhelming. This booklet is designed to give

information, support, and HOPE to people new to the diagnosis, as well as those

who have been traveling this journey a long time and want to do their part to

raise awareness of all that can be done to promote successful

outcomes.

Contains basic information and practical strategies for living

successfully with people with ASD.
Additional Resources About Autism/Asperger Syndrome:
Purchase other resources by Laurel Falvo:
(You can also purchase a variety of pdf documents by Laurel Falvo by clicking here).
NOTE:
You can purchase a few pdf documents by Laurel Falvo (including the Social Response Pyramid KIT, electronic contracts, and the summer growth chart) by
clicking here.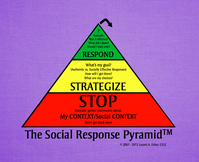 More resources, including books, DVDs, and fidgets, can be found on the following pages:

Our Coaching/Consulting can help answer your questions about Autism/Asperger Syndrome, and develop helpful strategies for optimizing your success!
| | |
| --- | --- |
| You can purchase your session(s) online here. Your credit card payment will be processed quickly and securely by PayPal. You can use this method to pay with a credit card even if you do not have a PayPal account. We will contact you to schedule your session(s) after receiving your payment. You may also pay in-person with check or cash. | |