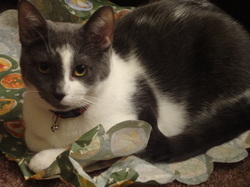 About a year and a half ago, my children and I welcomed into our home a beautiful grey and white kitten we named, "Jazz." My husband didn't exactly welcome her, although he has allowed her to live with us in relative peace in the intervening months. Jazz has moments where she displays an acute interest in human interaction; namely when food is involved, although she also loves to secure a place on a warm lap for an evening of relaxation. If I go to the bathroom, I find her pressed against the outside of the door when I am finished, wanting to know where I am, and waiting for me to appear again. She tolerates all of us, although she has extensive and seemingly unprovoked "sass" for my oldest boys, and endless patience and long-suffering for my youngest. However, interaction works best on her terms. She knows when she is willing to tolerate us, and the rest of the time, she chooses to observe from what appears to be a disinterested distance. Those of us who love her dearly are able to appreciate her warm affection and even her "quirky" behaviors, as we accept, "That's Jazz!" However, my husband is less appreciative of her antics, and is quick to utter, "That Stinkin' Cat!" when she succeeds in snatching a loaf of bread (or a bag of brown sugar or potato chips) from the cupboard and runs with it to the basement to consume her bounty in peace, or when she jumps down from her perch on (or in) the kitchen sink (as though she had been innocently grooming herself on the floor the whole time) when he walks into the room. She has even been known to snatch food off our plates at the table when we turn our backs for two seconds!
Whether or not you are a cat lover, you might be wondering what this anecdote has to do with anything. As we celebrate "Autism Acceptance Month," the resource,
All Cats Have Asperger Syndrome,
by Kathy Hoopman, may be enlightening and entertaining for you or someone you know who has connections to autism. The description of the book reads as follows: "
All Cats Have Asperger Syndrome
takes a playful look at Asperger Syndrome (AS), drawing inspiration from the feline world in a way that will strike a chord with all those who are familiar with AS. Delightful color photographs of cats bring to life familiar characteristics such as sensitive hearing, scampering at the first sign of being stroked and particular eating habits. Touching, humorous and insightful, this book evokes the difficulties and joys of raising a child who is different and leaves the reader with a sense of the dignity, individuality and potential of people with AS. This engaging book is an ideal, gentle introduction to the world of AS."
Just as I am thankful for my cat and the joy that she brings into my life, I am also thankful for people with autism and the joy, friendship, and insight they have brought into my life over the past 20 years. (And I'm thankful that my husband Steve has much better relationships with people with autism than he does with Jazz!)
Best wishes as you continue to promote insight, acceptance, and appreciation for people who have been diagnosed with an autism spectrum disorder!