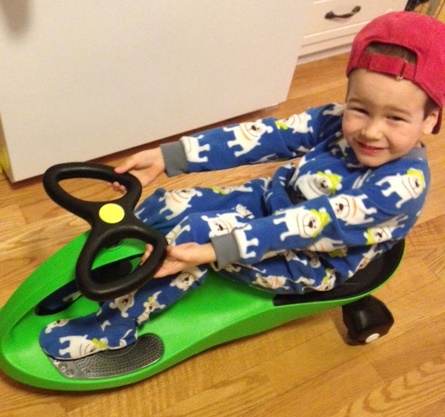 My "baby" turned four years old this weekend! The time has flown as he has gone from a tiny baby to a walking, talking individual with intellect, humor, creativity, and insight that continue to delight us.
Yet the past several weeks have been difficult as Noah has shown regression in several areas, including dressing, toileting, sleeping, and eating. This regression is understandable considering that we added a family member during that time (his grandma moved in with us, and managing her schedule and health issues took a toll on the entire family). Added to that was the fact that little Noah spent several weekends ill, as he went from a stomach bug, to croup, back to a stomach bug, and then the respiratory flu. He's been through a lot in the last month or two, and it's not hard to imagine why he became clingy and much less independent than he had been!
As his health improved and our family situation stabilized, I began working with Noah to re-instill confidence and independence. He fought me every step of the way, finally objecting to my desire to withdraw from a particular routine with a loud, "Mom, help me JUST ONE MORE TIME!"
Many people consider or set goals at the beginning of a New Year, and even though they know the goals are designed to bring positive results (financially, physically, emotionally, socially, spiritually, etc.), they find themselves wanting to do things the old way, "Just one more time!" Why do we resist those positive changes? Why do we cling to the old ways of doing things when we know intellectually that the new way will bring us closer to our long-term goals? Here are a few of my thoughts:
1. The old way is familiar and comfortable. We liked the old routine! Often we continue doing "the same thing," not necessarily because it's the best way to do it, but because it's the way we do it. Whether it's the easiest way, the way we were taught, the way we've done it for years, or the way someone else expects us to do it, we get trapped in that way, again and again.
2. We don't yet like the new routine.
According to some research I've read
, it can take as many as 66 days for something to become habit. Haven't achieved your New Year's Resolution? It's only been 12 days! Hang in there!
3. We are afraid of failure. When we try something new, there's always a chance we won't succeed. Sometimes that's enough to keep us from trying, especially when we perceive that "the stakes are high." When financial, social, or physical risk may be involved, we may be especially cautious. Yet it's good to remember that often the benefits of being successful outweigh the potential negatives of not succeeding!
4. Life happens! In Noah's situation, he had solidified great new habits in many areas, but family unrest and illness intervened. That's true for all of us. A sudden change in routine, illness, loss, etc. can dislodge our best intentions and send us in another direction, or perhaps make it impossible to achieve our goals. At that point we can accept the temporary detour, or select other goals that fit our new reality.
Here's hoping Noah, you, and I can all step away from our desire to do something, "Just one more time!" in favor of making healthy changes that will help us step toward our goals for 2015!
(NOTE: Noah's Plasmacar--loved and ridden by the whole family--can be purchased from Amazon!)