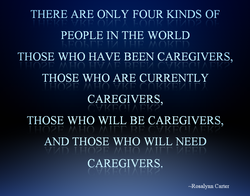 Over 20 years ago, I became a mom for the first time. I remember the moment I realized that my life was no longer my own; instead, a tiny baby controlled when I slept, showered, ate, and went on outings (and how pleasant and/or successful those were). I have had three other babies since then, and each one has reminded me of the all-consuming nature of being a full-time caregiver.

Although my four children are currently at various stages of independence, and none require the around-the-clock assistance of a newborn, there have been other times throughout my life when the full-time caregiver role has resurfaced. During periods of illness or injury, I have stepped in again with more intensive efforts at meeting my children's needs. Other people have also provided some care for me, most notably during two periods of bed rest through difficult pregnancies, but also for shorter-term needs. I am certainly thankful for their commitment and care during those times.

Last Monday my mother-in-law moved into our home (hopefully temporarily while she looks for housing and hopes to bring her husband here), and I have again been thrust into the seemingly around-the-clock chaos of decisions that need to be made, research that helps lead to wise decisions, and conversations that center around the current status of her situation and possible future options. Again, my life is not my own, as I help someone else sort through the best way to move forward with her life.

For me, care-giving has come in a variety of "seasons" or "chapters," some more intense than others. For others of you, care-giving has come with a relentless long-term intensity, whether you are caring for a son or daughter, a parent, or someone else. Whether the cause is a disability (physical or emotional), illness, old age, or something else, we know that sometimes a person needs a full spectrum of care, and often there are very few other alternatives, or options for respite for caregivers. You have my empathy. It isn't always easy, although thankfully moments of joy typically are interspersed with the most difficult of moments.

With my new caregiver role, I am reminded again that I cannot do this myself. My daily reality is that I have more questions than answers, and more needs than I have time to meet. I need other people to connect with, other resources to provide information, support, and hope, and other outlets for my time and talents. I am incredibly grateful for the people my husband and I have met in the last week, the community resources we've been able to access, and the love and support of our family and friends. We look forward to continuing to step through this process with their help, and trust that you, also, will be able to access the supports you need, whether you are currently in a caregiver role, or may find yourself there someday in the future.