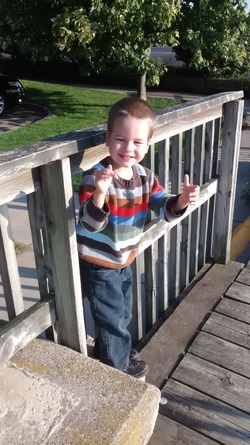 Like most three-year-olds, my youngest son asks a lot of questions! What does "alerting" mean? When is it going to snow? Is tomorrow a school day?
Noah's most common question right now is, "Why?" as in, "Why doesn't it snow in Florida?" or "Why do I have to go to bed?" or even, "Why does a cat have whiskers?" Most frequently, he simply asks, "Why?" As soon as I give him an answer, he again asks, "Why?" and immediately after that answer, "Why?" His patience outlasts mine every time!
In many ways, I admire his curiosity and tenacity. Although I suspect that he sometimes asks the question out of habit, without really listening to my answer (I'm sure I can be accused of the same thing at times!), typically he asks because he genuinely wants to know something. He is eager to keep learning about life: people, places, traditions, activities, academics, emotions, etc. His questions—and interacting with me to get his questions answered-- help him grow personally and interpersonally.
As adults, we had many of our questions answered long ago. And I suspect that over time, many of us tend to lose the wonder and curiosity so common at three years of age. In our busyness and practicality, we may be annoyed by questions, especially if we feel they are repetitive, impractical, or untimely.
How often do we miss "teachable moments" because we get irritated by questions, or because we don't realize that someone has a question they are not asking? Young children ask many questions, but their lack of knowledge and maturity make it so they often do not know what to ask, or don't know how to ask it. People with autism may have the same problem, but due to their difficulties "reading" social situations, generalizing, "seeing the big picture," or communicating.
Why do we need to be more patient with others' questions? Why do we need to anticipate which information someone else might need, even if they do not ask the questions? Why do we need to keep asking questions of ourselves and others? I believe It's all about growing personally and interpersonally...
but I'd also love to hear your thoughts...and questions
!
In this week ahead, I am wishing all of us the patience, curiosity, empathy, and insight needed to ask questions and to delight in providing answers to the questions others ask!