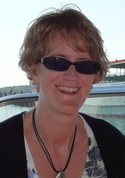 Do you wear sunglasses? Summertime in Michigan is a time when many people wear them to the beach and on other outdoor outings. Sunglasses are tinted to keep out harmful sun rays, and to protect the eyes from bright light and glares. I have two pairs of sunglasses—one tinted grey, and the other tinted brown. I was surprised to try on my husband's sunglasses once, and find that everyone around me looked like they were sunburned! I quickly realized that Steve's sunglasses are tinted red.
What do sunglasses and social insight have in common?
When we wear sunglasses, we're generally aware that the colors we see may be affected by the tinting on our glasses. Social insight reminds us that all of our perceptions of people around us are colored by our own
CONTEXT
, or our past experiences, our interests, personality, abilities, beliefs, expectations, feelings, cultural background, and more! Of course, our perceptions also affect our responses. So we sometimes end up responding in a way that isn't very effective. Here are some examples:
- A teacher hears that he is going to have a student with
Asperger Syndrome
in his class next year. He has either met a person with Asperger's before, or has done some research on (or heard stories about) Asperger's. Through those experiences, he has developed a negative impression of Asperger Syndrome. When the student arrives, the teacher has already formed expectations about the student's behaviors, academic functioning, social skills, etc., before knowing anything about this student's unique personality, interests, or abilities. The teacher's interactions with that student are colored by the teacher's own CONTEXT, and unless the teacher is open to learning new things about this student, they are beginning the year with a reduced likelihood that they will be able to interact effectively with each other.
-A shopper sees a child throwing a tantrum in the middle of a store. The seemingly frazzled mother is bent over the child, talking calmly and quietly while the child kicks and screams. Exasperated, the other shopper rolls her eyes and says, "Lady, you need to learn how to control your child!" What she doesn't realize is that the child is tired, has sensory issues, has been diagnosed with
autism
, and has just been steered away from the aisle filled with action figures—a passion of his. While his mother generally does a great job of parenting this young boy and managing his special needs, today these various factors came together to produce a major meltdown. Unfortunately, the lack of social insight and awareness of different CONTEXTS has left two adult shoppers feeling frustrated, and may keep the child from being exposed to shopping experiences for a while, robbing him of an opportunity to learn valuable skills for being successful in that and other environments.
-An employer conducts an interview with a young man who has difficulty making eye contact, and seems to struggle to find the words to answer the questions directed at him. While the young man has submitted an excellent resume demonstrating training related to the job in question, and has glowing references from teachers, the person doing the hiring is left feeling uncomfortable with the mannerisms displayed by the applicant. Rather than seeking to understand why the applicant appears awkward, or looking beyond the mannerisms to take time to experience the skills that this person could bring to the workplace, the employer decides to find another potential employee. Both people have missed out on an opportunity to grow their personal insight and skills and to grow this business through the
benefits that would have been discovered
if this young man had been given a chance!
Our knowledge, experience, personality, interests, and expectations can help us interact more effectively with others. Unfortunately, they can also hinder our interactions if we rely on our own CONTEXT to interpret others' responses rather than taking the time to discover where their responses are coming from.
Best wishes as you continue to promote social insight and social effectiveness all around the world!