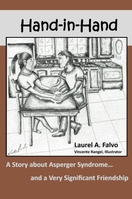 Throughout my career, initially as a first grade teacher, then as the Executive Director of
The Gray Center
, and now as the President of
Social Incites, LLC
, I have had the privilege of hearing the stories of countless parents, siblings, teachers, administrators, social workers, employers, employees, therapists, children, teens, and adults. I have heard stories of exciting successes, disappointing failures, frustrating struggles, hopeful attempts, and unending questions. You have shared stories related to parenting, teaching, studying, working, and building relationships. We have dealt together with organization, schedules, behaviors, autism, adolescence, bullying, abuse, transitioning to employment or college, giving compliments, making friends, choosing schools, and more! Together we have laughed, cried, brainstormed, and celebrated.
Your stories have been a huge inspiration to me! You have helped me in my work, my parenting, and my relationships. You have challenged me to keep growing both personally and interpersonally. And you have inspired me to share your stories with others, to give them hope and inspiration.
The result of this is my newest book,
Hand-in-Hand: A Story About Asperger Syndrome…and a Very Significant Friendship.
The description on the back cover reads, "Join Rory Hollander and his cousin Alyssa as they navigate one week of their final year of high school, appreciating their unique friendship even while acknowledging the ways it will change in the near future. Asperger Syndrome, mutual understanding, helpful strategies, and respect are just part of this busy time in their lives, along with both positive and negative relationships, college plans, job prospects, and creative writing assignments. Regardless of your age or related experience, as you hear their story, and use the enclosed discussion guide, you're likely to increase your understanding and appreciation for people with Asperger Syndrome and other forms of autism, and add to your toolbox of strategies to help yourself and others experience social success."
I initially wrote this story four years ago. Because it was so different from my other writing, I was hesitant to make it available to the public. But then Kyle read it. Kyle is a young man who will be graduating from high school next month. His story was one that inspired the creation of Rory's story. Kyle has been asking me regularly for the last year, "Have you published your book yet?" Then my husband met Vincente, a man who did not have the opportunity to attend college to grow his natural artistic abilities. He heard about my book, and drew a few illustrations to bring Rory and Alyssa to life for readers. He was so enthusiastic—along with his wife and four children, including one with a significant disability-- at having his work featured in "a real book," that I could no longer leave this manuscript parked on my computer.
It is my hope that
Hand-in-Hand
will inspire you and your friends and family, just as I have been inspired by Kyle, Vincente, and all of you!